2020 Year In Review
Another year of expansion
In what has been an unprecedented year, we're proud to be able to continue growing our business infrastructure around the world.
2020 has seen the introduction of two new Gripple sites in Sheffield, as well as the beginning of work on a significant expansion of our North America HQ.
In July,
Gripple Automation
, our bespoke manufacturing automation solution business, moved out of its home at our Hawke Street Works site and into a new 16,000 sq.ft facility close to the Advanced Manufacturing Park in Sheffield. The new site incorporates machine build and office space and gives the team more scope to continue growing their external machine build business alongside a range of new Gripple machine build projects.
Summer 2020 also saw the beginning of work on a huge 42,000 sq.ft expansion of our North America HQ in Aurora, Illinois. Due to be completed in Spring 2021, the project will see us more than double the footprint of the site and significantly enhance our operation in the USA.
Last month also saw us begin moving machinery into a brand new Gripple site just a stone's throw away from our Old West Gun Works head office in Sheffield. Such has been the growth and success of
Fast Trak
- our rapid trapeze bracket solution for the suspension of building services on construction projects - the 26,000 sq ft. site at the junction of Leveson and Foley Street in Sheffield will be a dedicated manufacturing site for the product and allow us to support it's growing popularity.
Sustainable growth for the benefit of our global customer base and the Gripple team is a key success metric for us and in what has been a year of unique challenges, we're delighted to be in a position to reach such targets. We're excited to celebrate the opening of all three sites next year when it's safe to do so.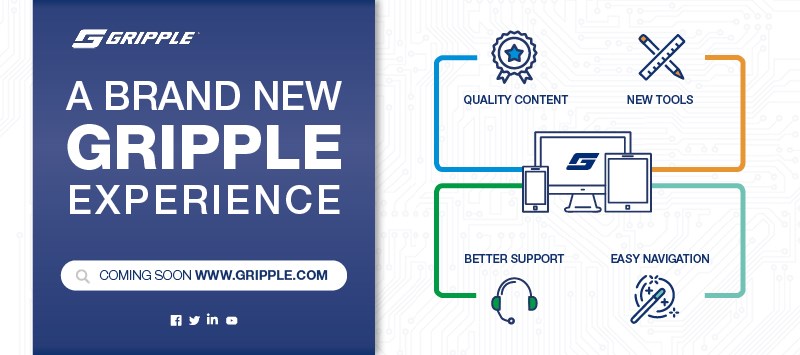 Pre-fabricated, trapeze bracket solution offering speed, flexibility and efficient use of space.
» View this product
Why use Gripple?
Significant time and cost savings on your project

Complete, off-site solutions which minimise health and safety concerns

Innovative, patented solutions designed by an in-house team of engineers

Considerable reductions in packaging, vehicle movements & embodied CO2

A range of support services at every stage of your project, provided by a dedicated technical team

Aesthetically pleasing solutions; lightweight and virtually invisible