Building Services
Gripple Fast Trak nominated for national construction accolade
Gripple Fast Trak nominated for national construction accolade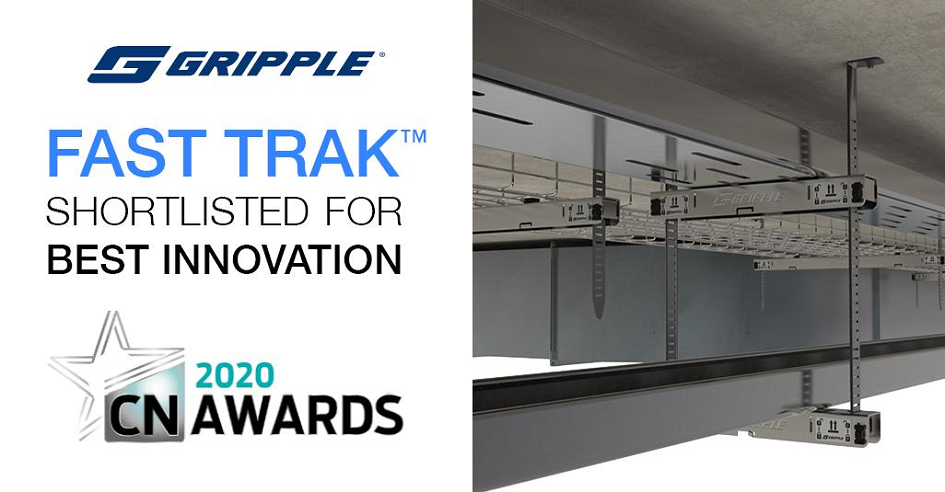 We are delighted to announce that Fast Trak, Gripple's rapid trapeze bracket system, has been shortlisted for an Innovation award at the 2020 Construction News Awards.
This nomination recognises the contribution that Fast Trak has made in revolutionising the installation of MEP containment, since its launch in 2017. Fast Trak facilitates enormous time-saving benefits when compared to traditional methods of installation, which leads to further reductions in labour costs, increased health and safety due to reductions in hot works activities and time spent working at height, and benefits the environment through significant reductions in on-site waste and CO2.
This nomination is testament to the business' commitment in delivering genuine benefits to its stakeholders – with 25% of turnover generated from products less than five years old, Gripple's constant drive for innovation is at the heart of the business.
With previous recipients of the award including Melius Homes & Studio Partington and Mace, we consider it a real accolade to see our pursuit of innovation recognised with this nomination. Best of luck to all those who have been shortlisted, and we look forward to celebrating at the awards ceremony on 9th July 2020.
Pre-fabricated, trapeze bracket solution offering speed, flexibility and efficient use of space.
» View this product
Why use Gripple?
Significant time and cost savings on your project

Complete, off-site solutions which minimise health and safety concerns

Innovative, patented solutions designed by an in-house team of engineers

Considerable reductions in packaging, vehicle movements & embodied CO2

A range of support services at every stage of your project, provided by our technical team